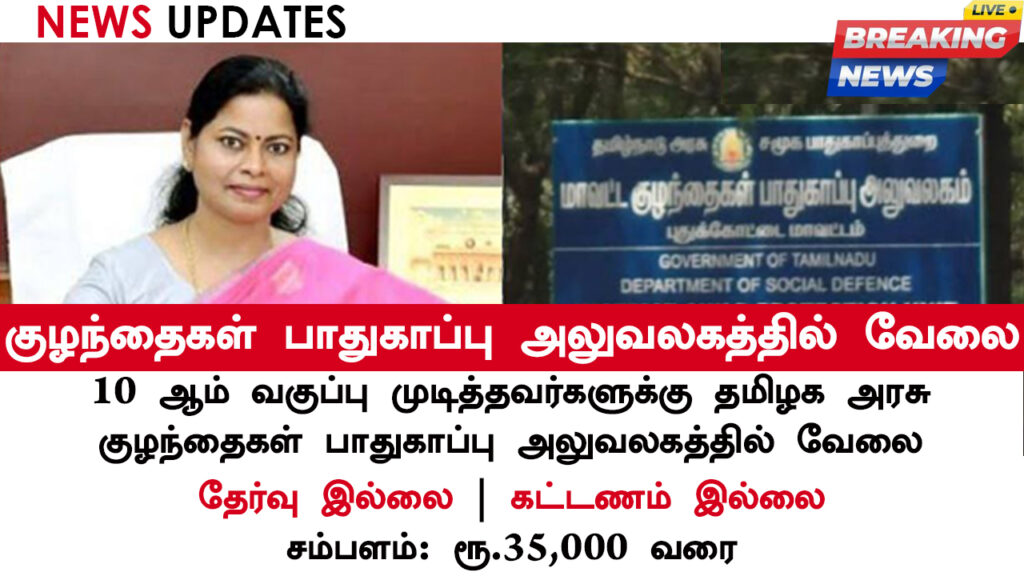 Press Release Medicine and Population Welfare Department
Dharmapuri District
Applications are invited from qualified persons to work on a contract basis for the following posts entrusted under various schemes implemented in the Office of the Deputy Director of Health Services at the Government Medical College Hospital, Bennagaram, Government Chief Medical Officer, Government Primary Health Centers, and the Office of the Deputy Director of Health Services under the National Health Scheme.
Conditions:
1. This post is purely temporary.
2. Work shall not be made permanent at any time.
3. Self-willed approval letter (Undertaking) for joining the work should be given.
4. The District Welfare Society reserves the right to cancel or suspend this notification for administrative reasons.
Address to which application should be sent:
Executive Secretary / Deputy Director of Health Services,
District Health Society,
Office of the Deputy Director of Health Services,
Dharmapuri District -636705
Note:
1. Apply from the District website address www.Dharmapuri.nic.in
You can download it.
2. Self-attested copies of the educational certificate of the applicant including caste certificate and residence certificate should be attached with the application.
3. Passport size photograph should be affixed to the application.
4. Applications are invited in person or through registered post/courier.
5. Last date for receipt of applications: 18.08.2022 by 5.45 PM.
6. Only one application from one person per post. No more than one application will be accepted.
Notification: https://cdn.s3waas.gov.in/s366368270ffd51418ec58bd793f2d9b1b/uploads/2022/08/2022080274.pdf
Download Pleaseஇந்த வேலை கிடைக்க வாழ்த்துக்கள் நண்பா...