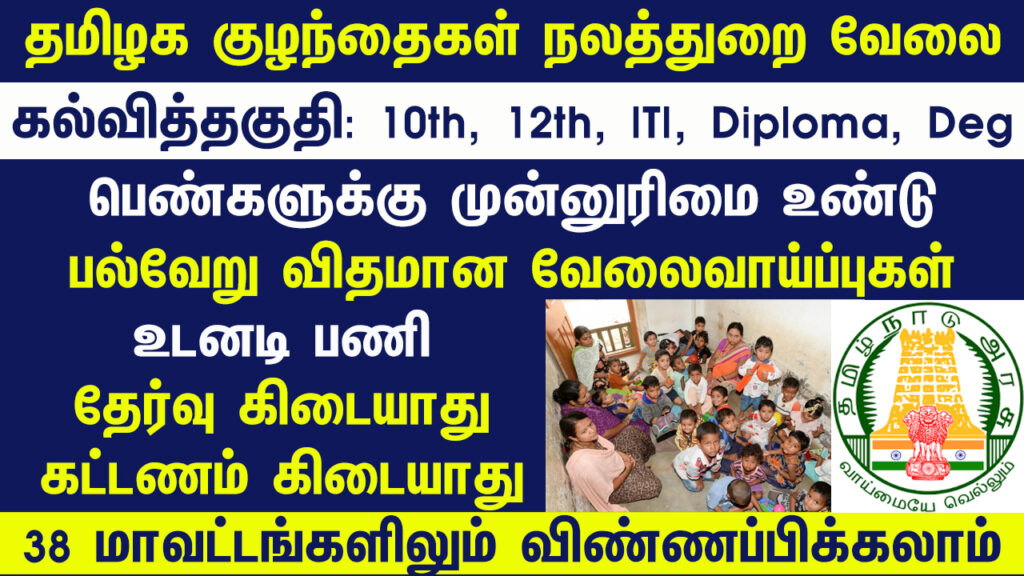 Namakkal District Collector's website and press release note
Government of Tamil Nadu – Department of Social Security under "Integrated Child Protection Scheme" "Juvenile Justice Group" blockade has been selected for the vacant post of "Data Recorder from Support Staff" on a temporary, one-year contract basis. I am uploading the application form and description notes for the post at Namakkal.nic.in the Completed application form to "District Child Protection Officer, District Child Protection Unit, 78/A, Near Ilango Marriage Hall, Mohanur Road, Namakkal – 637 001" The dispatcher is requested to reach the office by 05.00 PM on the next 09.08.2022.
Job Description:
Assistant Commentary Operator.
Monthly Salary for this Job:
Rs . 9,000/-
Educational Qualification for this Job:
1. The 12th pass is enough.
2. Or any course message from any government-recognized institution is enough.
3. You can apply even if you have done an equivalent diploma.
4. At the same time, you can also apply if you have done any computer degree or computer course.
5. At the same time should be able to read and write well in English and Tamil.
6. At the same time should have typed in English and Tamil in Tamil.
7. You should not be more than 40 years old. You can apply for this job if you are within 40 years.
8. When you apply for this job. You have to attach your passport size photograph, all your voluntary surrenders, education certificate, caste certificate, etc.
Download Pleaseஇந்த வேலை கிடைக்க வாழ்த்துக்கள் நண்பா...