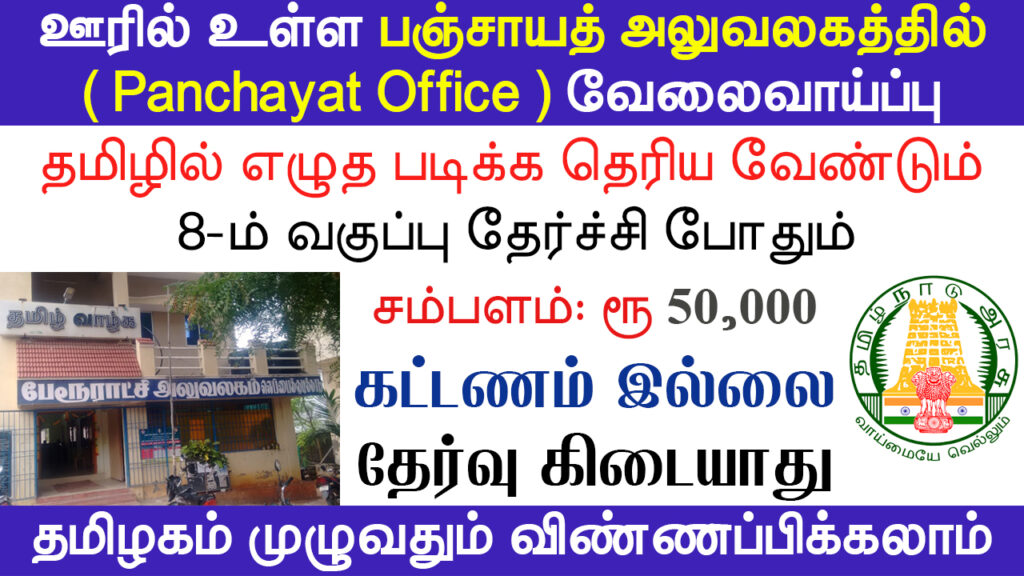 Department of Rural Development and Panchayats, Tamil Nadu Mayiladuthurai District, Sirkazhi Panchayat Union Notification
Direct Recruitment for Union Title Office Assistant Vacancies
Sirkazhi panchayat in the Mayiladu sector district, rural development, and panchayat unit! Union, Applications are invited from eligible candidates to fill up one vacant post of Office Assistant under Union title through direct appointment.
Union Title Office Assistant Vacancy Details:
Backward Classes (Except Muslim) (Priority)
Qualifications:
Backward Classes (except Muslims) should have completed 18 years and not more than 34 years of age as of 01.07.2022 in the year of selection.
Other Qualifications:
1. Must be able to read and write.
2. Should have passed the 8th standard.
Ordinance No:65, Personnel, and Administrative Welfare Department, dated 27.05.2009, | Ordinance No.:122 Human Resource Management Department (K2) Dated:02.11.2021, Ordinance No.:91 Human Resource Management (S) Department, Dated:13.09.2021 and Director of Rural Development and Panchayats, Chennai vide letter No.53656/2019/ The post will be offered as per the conditions mentioned in F1, dated: 19.04.2022.
conditions:
1. Applicants must attach proof of educational qualification, location, caste proof, and preference proof.
2. Applications received from persons who do not qualify in terms of race, age and education will be rejected.
3. Apply separately for each post based on merit | want.
4. Appointments will be made following the ethnic rotation system per government rules.
5. Applicant must have completed 18 years of age as of 01.07.2022.
6. The selected persons will be given Special Periodical Pay Table (Matrix Table Level – 1) under Revised Pay Commission Rules 2017 with minimum initial pay of Rs.15700-50000/- and proper steps.
Completed applications along with copies of relevant certificates should be sent to the Commissioner, Panchayat Union, Sirkazhi in person or by registered post on 11.09.2022 by 5.45 PM. Applications received after the deadline will be rejected.
Eligible candidates will be sent a call letter regarding the venue and date of the interview.
Details and application forms for Union Title Office Assistant Vacancies are published on the National Career Service Portal at www.nioc.gov.in and Mayiladu District website www.mayiladuthurai.nic.in.
Note:
1. I declare that all the details mentioned in the application are accurate.
2. I submit to the action taken against me if these details are found to be incorrect before or after the examination.
3. I declare that no criminal case has been registered against me.
4. Self-attested copies of educational qualification, age location, and caste proof must be attached with the application. Original certificates should be produced at the time of the interview.
5. The completed application should be submitted along with the relevant documents at the General Section of the Sirkazhi Panchayat Union Office on the ground floor on office working days from 10.00 am to 5.45 pm.
This Job Official Website: https://mayiladuthurai.nic.in/notice_category/recruitment/
Notification: https://cdn.s3waas.gov.in/s33871bd64012152bfb53fdf04b401193f/uploads/2022/08/2022082392.pdf
Please Wait This Job Official Application is Loading… Please Wait for 40 Seconds Brother.
Download Pleaseஇந்த வேலை கிடைக்க வாழ்த்துக்கள் நண்பா...