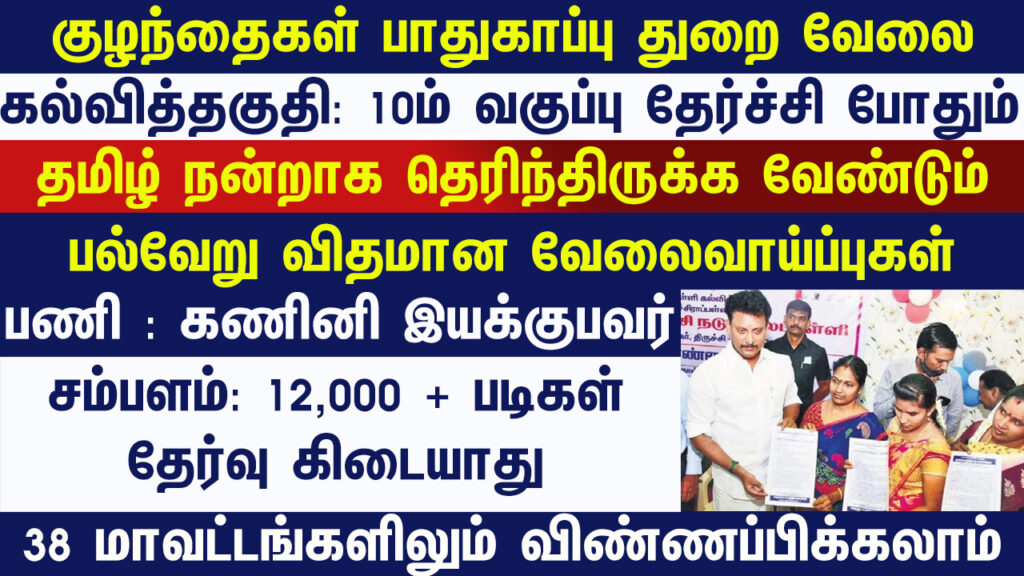 https://erode.nic.in/notice_category/recruitment/Press Release
Applications are invited for the following vacancies in Erode District Child Welfare Board.
Vacancy to be filled:
The above post is purely a temporary one year contract basis. This is a scheme implemented with the financial assistance of the Central and State Governments, so it is not possible to apply for government jobs based on this.
The above mentioned eligible persons can download the application and information for this post from Erode District website www.erode.nic.in.
Their applications with photograph should reach the District Child Protection Office, 69, Gandhiji Road, Ex-Servicemen's House (2nd Floor) Erode – 638001 by 05.45 PM on the date. Tel: 0424-2225010. Also, applications which are incompletely filled and applications without proper supporting documents will be rejected without any prior information. 13-08-202255 27-08-26L with Kappat directly contact above address for details.
Official Website:
https://erode.nic.in/notice_category/recruitment/
Download Pleaseஇந்த வேலை கிடைக்க வாழ்த்துக்கள் நண்பா...