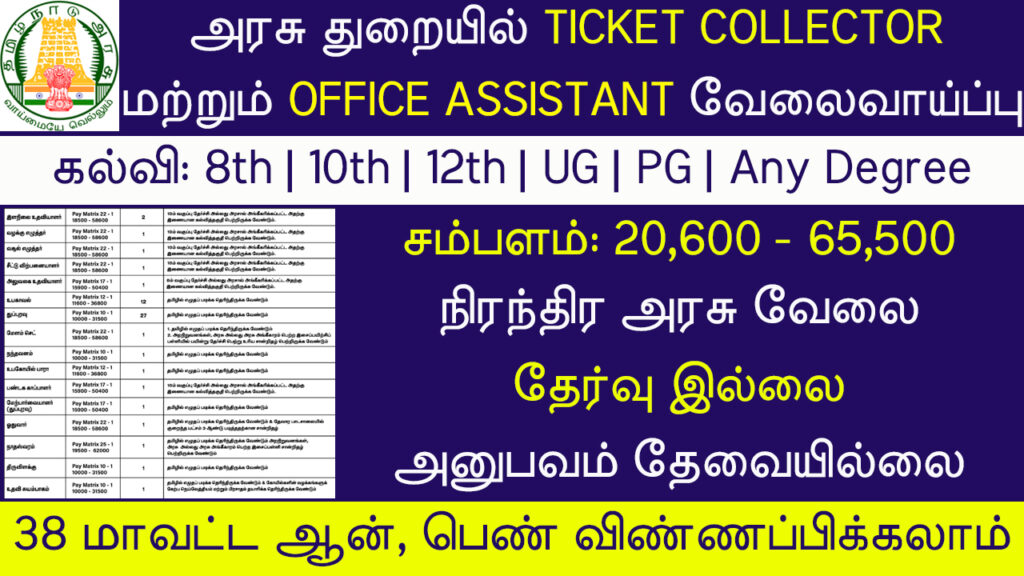 Department of Hindu Religious Charities Arulmiku Mariamman Thirukoil Itankudi Chatur Circle, Virudhunagar District
Employment Notification                                                                        Day: 27.07.2022
Applications are invited from suitably qualified candidates for selection through direct appointment for the vacancies in Virudhunagar District, Chatur Circle, Sitangudi, Arulmiku Mariamman Thirukoil. Applications can be collected in person during office hours or downloaded from the website of www.Irukkangudimariamman.hrce.tn.gov.in.
Last date for receipt of applications: 05.09.2022. 5.00 pm.
conditions:
1. Applicants must have completed 18 years and not completed 35 years as on 01.07.2022.
2. Only Hindus should apply. Must also be religious.
3. Applications to be sent to: Assistant Commissioner/Executive Officer, Arulmiku Mariamman Temple, Sitankudi Chatur Circle, Virudhunagar District – 626202. Late applications will be rejected and management will not be held responsible in any way.
4. A certificate stating that there are no criminal proceedings against the applicant in the jurisdiction of the police station where the applicant resides should be attached.
5. Serial No. : 1 to 19 Posts will be conducted separately for the Interview/Formal Test.
6. A candidate applying for more than one post should submit separate applications. Application for more than one post in one application will be rejected.
Download Pleaseஇந்த வேலை கிடைக்க வாழ்த்துக்கள் நண்பா...